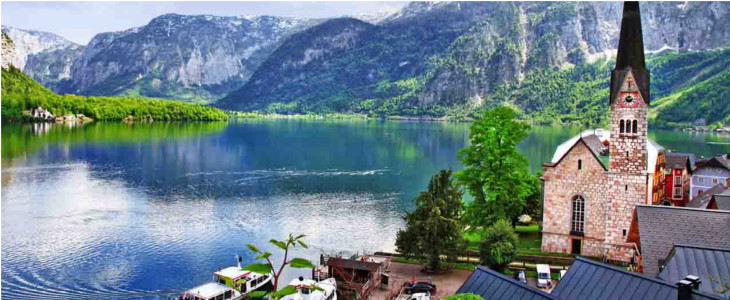 Capital city: Vienna
Currency: Euro (€)
Population: 8.7 million
Language: Austrian & German
GDP $416 billion
Austria, officially the Republic of Austria, is a federal republic and a landlocked country in Central Europe bordered by the Czech Republic and Germany to the north, Hungary and Slovakia to the east, Slovenia and Italy to the south, and Switzerland and Liechtenstein to the west. The territory of Austria covers 83,879 km2 and the terrain is highly mountainous, lying within the Alps. The origins of modern-day Austria date back to the time of the Habsburg dynasty, when the vast majority of the country was a part of the Holy Roman Empire.
Austria was the birthplace of many famous composers such as Joseph Haydn, Michael Haydn, Franz Liszt, Franz Schubert, Anton Bruckner, Johann Strauss, Sr. and Johann Strauss, Jr. as well as members of the Second Viennese School such as Arnold Schoenberg, Anton Webern and Alban Berg. Wolfgang Amadeus Mozart was born in Salzburg and much of his career was spent in Vienna.
In Austria, companies are taxed on profits at a standard tax rate of 25%. Although this headline tax rate is quite high, the effective tax rate is much lower due to:
Group taxation provisions that allow the losses of foreign subsidiaries to be deducted.
Purchased goodwill can be written off over a period of 15 years.
Companies are paid a cash research premium for expenditures relating to in-house R&D & contract research at the rate of 12%.
"You'd be stupid not to try to cut your tax bill and those that don't are stupid in business"
- Bono: U2