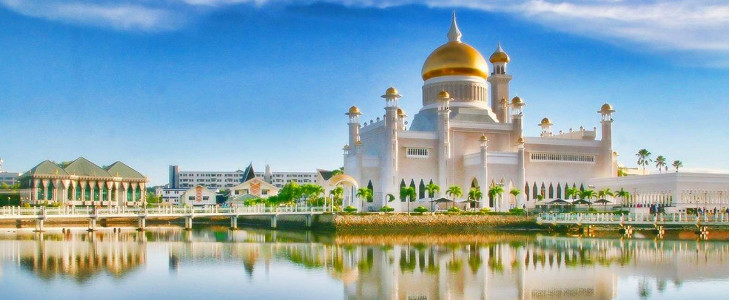 Capital city: Bandar Seri Begawan
Currency: Brunei dollar (BND)
Population: 417,200
Language: Malay
GDP: USD$13 billion
GDP per capita: USD$31,160
Brunei (official name Brunei Darussalam – which means Abode of Peace) is a sovereign state located on the north coast of the island of Borneo. Brunei gained its independence from the United Kingdom on 1 January 1984.
Brunei is the 5th richest nation in the world due to its extensive petroleum and natural gas fields. It also enjoys the 5th highest GPD per capita in the world and has no public debt (only one of two countries in that enviable position).
Hassanal Bolkiah (born 15 July 1946) is the 29th and current Sultan and Yang Di-Pertuan of Brunei. Under Brunei's 1959 constitution, the Sultan is the head of state with full executive authority, including emergency powers since 1962. He's also the Prime Minister of Brunei and holds the portfolios both of Minister of Defence and Minister of Finance.
The Sultan is the wealthiest monarch in the world with a fortune of US$20 billion. The Sultan's official residence is the Istana Nurul Iman, with 1,788 rooms, 257 bathrooms, and a floor area of 200,000 m2. The Sultan is passionate about cars and always maintains a collection of over 100 cars at the palace, and at one stage owned the largest private car collection in the world with 2500 cars.
Brunei is an attractive tax haven as it has no income taxes, no exchange controls, and has economic and political stability. The Brunei International Financial Centre promotes Brunei as a modern, properly regulated and supervised financial services hub.
"You'd be stupid not to try to cut your tax bill and those that don't are stupid in business"
- Bono: U2