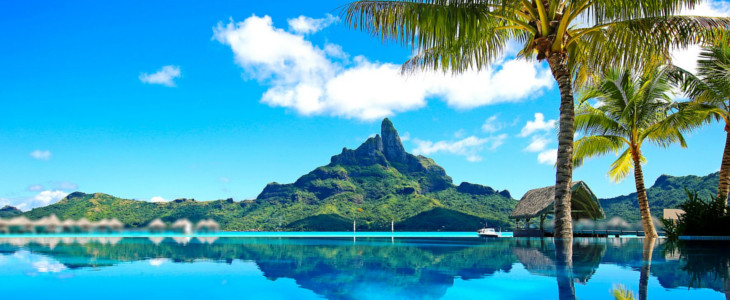 Capital city: Pape'ete
Currency: CFP franc (XPF)
Population: 268,270
Language: French
GDP: USD$5.6 billion
GDP per capita: USD$20,874
French Polynesia is an overseas collectivity of the French Republic comprised of 118 islands and atolls in the South Pacific Ocean. French Polynesia is divided into five groups of islands: the Society Islands Archipelago (composed of the Windward Islands and the Leeward Islands and includes the most populated island—Tahiti); the Tuamotu Archipelago; the Gambier Islands; the Marquesas Islands; and the Austral Islands.
In 1962, France's early nuclear testing was moved from Algeria (when they gained independence) to the Moruroa Atoll in the Tuamotu Archipelago. Frances last nuclear test was at the Fangataufa atoll on the 27 January 1996. Two days later France announced that it would accede to the Comprehensive Test Ban Treaty, and no longer test nuclear weapons.
French Polynesia is famous for its reef break waves with 'Teahupo'o' regularly ranked in the best waves of the world. This site hosts the annual Billabong Pro Tahiti surf competition—the 7th stop of the World Championship Tour.
French Polynesian has no income taxes on individuals, no wealth taxes, and no inheritance taxes. New businesses are tax-exempt for their first 12 months of operation.
"You'd be stupid not to try to cut your tax bill and those that don't are stupid in business"
- Bono: U2