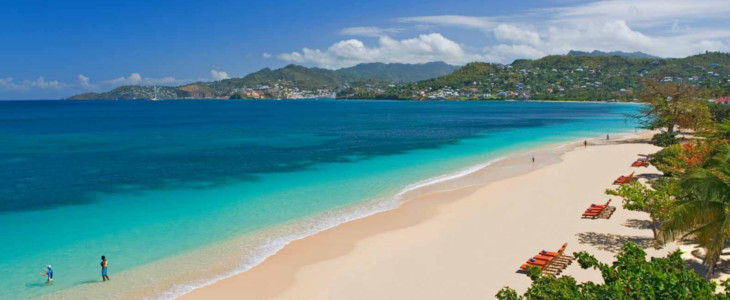 Capital City: St George's
Currency: East Caribbean Dollar
Population: 110,000
Language: English (official), Grenadian Creole English and Grenadian Creole French (regional)
GDP: $1 Billion
Some 2 million years ago Grenada was actually an underwater volcano.
Today, Grenada, comprising some 344 square kilometres and has around 110,000 people. It is known as the 'island of spice' as it is one of the world's largest exporters of mace and nutmeg. Other exported spices include cinnamon, cloves, ginger, and allspice. Add to this orange and citrus peels and wild coffee.
Located in the south-eastern Caribbean sea, Grenada was first sighed by Christopher Columbus in 1498.
Inhabited by the indigenous Arawaks and Island Caribs and once deemed Spanish property, it became colonised by the French in 1650 for over a century until ceded to the British in 1763. Grenada was then primarily under British governance until achieving independence in 1974, but with full control of its internal affairs from 1967.
In 2004, 90% of homes were destroyed by Hurricane Ivan, after a 49-year hurricane-free period. Hurricane Emily followed in 2005 causing over USD $110m in damage.
As the largest island in the Grenadines most of the population live in the capital – St George's, Gouyave and Grenville. Grenada is mountainous with its highest peak of Mount St Catherine reaching 840 metres. It has a cooler dry season and a tropical hot and humid wet season.
Languages spoken are English and, regionally Grenadian – Creole English and Creole French. 89.4% of the population are African.
Tourism is the leading foreign exchange earner for Grenada. The spice, nutmeg features on the national flag and the island has claim to being the second largest producer of nutmeg in the world, after Indonesia. The Grenada Chocolate Company is responsible for having developed the cultivation process for organic cocoa, and the formal 'Pure Chocolate Festival', in 2017 celebrates its fourth year. Visits to cocoa farms, deep in the rainforests are possible, with some farms having existed for over 100 years.
In 2015 the European Union named Grenada as one of 30 countries not taking sufficient steps to contain tax avoidance and registered it on their blacklist of tax havens for non-cooperation. Grenada sought removal stating that it had 'never received a request for information for tax purposes under any existing tax treaties or for that matter from any European Union member jurisdictions'. Additionally, adding that, 'Grenada shares fully the concerns raised by the Global Forum in its letter of June 19, 2015, on the methodology used for establishing this so-called blacklist and calls on the European Union to move swiftly to remove Grenada from this ill-conceived list.'
Grenada includes a Citizenship by Investment Programme (CIP), allowing for considerable tax benefits. Additionally, benefits are obtained through incorporation of offshore companies and corporate structures including – no tax on capital gains, 20 years' tax exemption for offshore companies, no withholding tax, no transfer tax, no estate and inheritance tax, no business levy and alien-land holding tax, and special access to international markets. Grenada also claims to offer an 'investor friendly' business environment and high confidentiality.
"You'd be stupid not to try to cut your tax bill and those that don't are stupid in business"
- Bono: U2