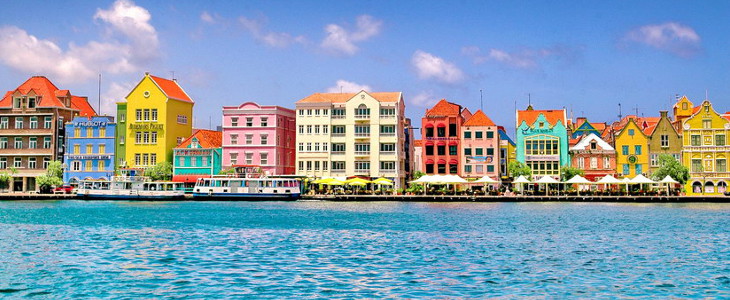 Capital city: Willemstad
Currency: Netherlands Antillean guilder (ANG)
Population: 158,986
Language: Dutch, Papiamentu & English
GDP US$3.1 billion
Curaçao is an Antilles island country in the southern Caribbean Sea and the Dutch Caribbean region (65 km north of the Venezuelan coast). It is a constituent country of the Kingdom of the Netherlands. The Dutch West India Company founded the capital of Willemstad on the banks of an inlet called the 'Schottegat.' The natural harbour of Willemstad proved to be an ideal spot for trade and its most important economic activities were commerce, shipping, and piracy.
Curaçao has an open economy, with tourism, international trade, shipping services, refining, storage (oil and bunkering) and international financial services being the most important sectors. The Dutch Caribbean Securities Exchange is located in the capital of Willemstad, as is the Central Bank of Curaçao (which is the oldest central bank in the Western Hemisphere). The island's legal system supports a variety of corporate structures and is a corporate haven. A Technology Exchange, CTEX, recently opened on Curacao. Several casinos and internet gaming companies also operate on the island.
Curacao's offshore financial sector consists of trust service companies providing financial and administrative services to an international clientele, including offshore companies, mutual funds, investment funds, and international finance companies. Curacao has signed tax information exchange agreements and double taxation agreements with many countries to help prevent tax fraud, financing of terrorism, and money laundering.
"You'd be stupid not to try to cut your tax bill and those that don't are stupid in business"
- Bono: U2