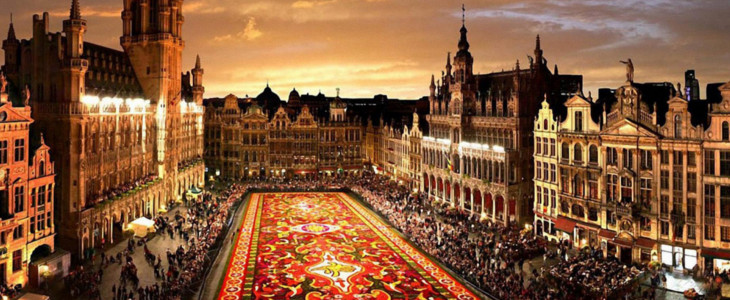 Capital city: Brussels
Currency: Euro (€) (EUR)
Population: 11.25 million
Language: Dutch, French & German
GDP $508 billion
Belgium, officially the Kingdom of Belgium, is a sovereign state in Western Europe bordered by France, the Netherlands, Germany, Luxembourg, and the North Sea. Belgium is a constitutional, popular monarchy and a federal parliamentary democracy. The Belgians have been strong advocates of European integration and are founding members of the Eurozone, NATO, OECD and WTO, and a part of the trilateral Benelux Union. Both the European Union and NATO are headquartered in Belgium.
Belgium is famous for beer, chocolate, waffles and french fries with mayonnaise. Contrary to their name, french fries are claimed to have originated in Belgium. The national dishes are "steak and fries with salad", and "mussels with fries". Belgium produces over 1100 varieties of beer and the Trappist beer of the Abbey of Westvleteren has repeatedly been rated the world's best beer.
Although Belgium companies are taxed at the high corporate tax rate of 33.99% (a standard rate of 33% plus a 3% crisis tax), certain tax incentives can substantially reduce this. On 20 February 2017 Belgium introduced a new tax incentive for "innovation income". This allows Belgian companies (and Belgian establishments of foreign companies) to deduct 85% of the net income they derive from qualifying IP assets from their Belgian corporate tax base. Qualifying IP assets include patents and supplementary protection certificates, plant breeder's rights, orphan drug designations and income derived from copyrighted software.
"You'd be stupid not to try to cut your tax bill and those that don't are stupid in business"
- Bono: U2