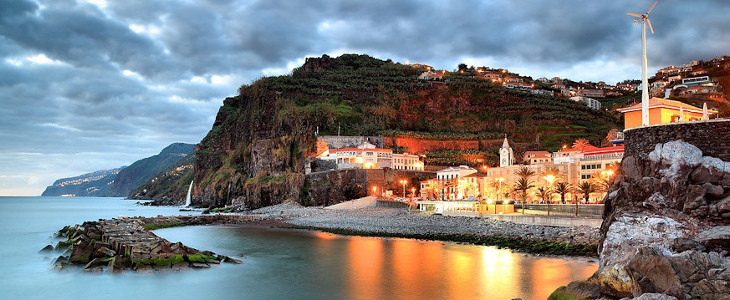 Capital city: Funchal
Currency: Euro (€)
Population: 270,000
Language: Portuguese
GDP € 4b (2016)
Madeira is a Portuguese archipelago situated in the north Atlantic Ocean, southwest of Portugal. The archipelago is an Autonomous regions of Portugal (since 1976) and includes the islands of Madeira, Porto Santo, and the Desertas. The region now has its own government and legislative assembly. Madeira was claimed by Portuguese sailors in the service of Prince Henry the Navigator in 1419 and settled after 1420. Today, it is a popular year-round resort, being visited every year by one million tourists and is valued for its Madeira wine, gastronomy, historical and cultural value, its flora and fauna, landscapes (Laurel forest).
The setting-up of the Madeira Free Trade Zone (also called the Madeira International Business Centre) being a tax-privileged economic area, provides an incentive for companies, offering them financial and tax advantages via a whole range of activities exercised in the Industrial Free Zone, the Off-Shore Financial Centre, the International Shipping Register organisation, and the International Service Centre.
Madeira's preferential tax regime applies to new companies which are licensed and established in Madeira's International Business Centre during the years 2007 to 2013. Under the new regime, companies will benefit from a reduced corporate tax rate as follows:
2007 – 2009 – 3%
2010 – 2012 – 4%
2013 – 2020 – 5%
In addition to reduced corporate tax rates, new companies will continue to enjoy an exemption from withholding taxes on the distribution of dividends, royalty and interest payments and an exemption from capital duty, notary and registration fees. Offshore Trusts established in the International Business Centre under Free Trade Zone Legislation have Madeiran-resident trustees. All income earned by a trust and all income distributed in favour of a beneficiary is free of tax in Madeira unless the source of that investment income is Portugal in which case it is taxed in the hands of the trustee.
"You'd be stupid not to try to cut your tax bill and those that don't are stupid in business"
- Bono: U2