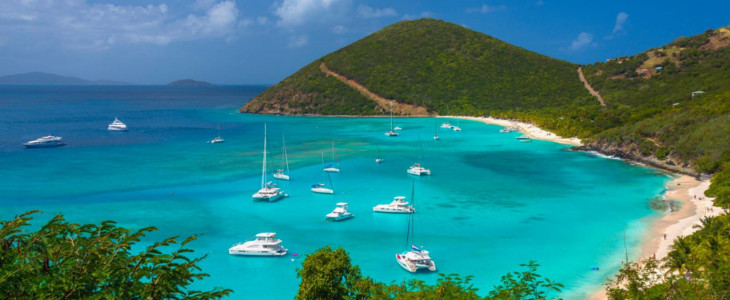 Capital city: Road Town
Currency: United States dollar (USD)
Population: 28,054
Language: English
GDP $853m
The British Virgin Islands (officially the Virgin Islands) are a British Overseas Territory located in the Caribbean. The British Virgin Islands is comprised of 60 tropical Caribbean islands, ranging in size from the largest, Tortola (20 km long and 5 km wide), to tiny uninhabited islets.
The most famous island is the 74-acre Necker Island owned entirely by Sir Richard Branson (Chairman of the Virgin Group). The island was uninhabited when purchased by Richard Branson in 1978 for only $180,000. It then took three years and another US$10 million to turn it into a private island retreat. The island has accommodation for 30 people and rents out at US$65,000 a day.
The "twin pillars" of the economy are tourism and financial services. Over 900,000 tourists visit the Virgin Islands each year attracted by the numerous white sand beaches, The Baths on Virgin Gorda, snorkeling the coral reefs near Anegada, or experiencing the well-known bars of Jost Van Dyke.
The British Virgin Islands has:
No capital gains tax,
No gift tax,
No sales tax or value added tax,
No profit tax,
No inheritance tax or estate duty, and
No corporation tax.
Although there is still technically income tax assessed in the British Virgin Islands, the rate of taxation has been set at zero.
"You'd be stupid not to try to cut your tax bill and those that don't are stupid in business"
- Bono: U2