Kuwait has no income tax!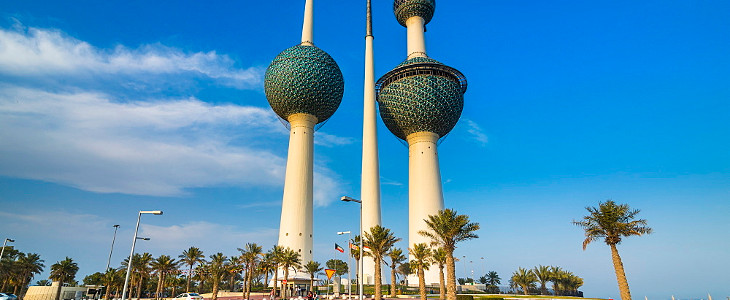 Capital city: Kuwait City
Currency: Kuwaiti dinar (KWD)
Population: 4,348,395
Language: Arabic
GDP: USD$317 billion
GDP per capita: USD$72,900
Kuwait, officially the State of Kuwait, is an Eastern Arabian country situated at the tip of the Persian Gulf (and bordered by Iraq and Saudi Arabia). Kuwait is one of the smallest countries in the world and is mostly covered by the flat, sandy Arabian Desert.
During the Iran-Iraq war, Kuwait supported Iraq. Surprisingly, after the Iran-Iraq war ended, tensions between Iraq and Kuwait increased due to a dispute over the ownership of the large Rumaila oil field (which overlaps between both countries). In August 1990, Iraqi forces invaded Kuwait. This led to the 'First Gulf War', when the United States led a coalition to remove the Iraqi forces from Kuwait. The coalition succeeded in driving the Iraqi forces out in 1991. In March 2003, Kuwait became the springboard for the US-led invasion of Iraq.
Kuwait has a petroleum-based economy with petroleum being the main export product and accounting for half of GDP (and 90% of government income). Kuwait has proven crude oil reserves of 104 billion barrels, estimated to be 10% of the world's reserves, and pumps 2.9 million barrels per day. According to the constitution, all-natural resources in the country are state property.
The Kuwait Investment Authority (KIA) is Kuwait's $600 billion sovereign wealth fund specialising in foreign investment. Established in 1953, the KIA is the world's oldest sovereign wealth fund, and the 5th largest sovereign wealth fund in the world.
The Kuwait income tax law does not impose personal taxes on income earned by individuals irrespective of nationality. Kuwait resident companies, whether incorporated, carrying on trade or conducting business in Kuwait, are also exempt from tax. In contrast, non-resident companies are taxed on their Kuwait sourced income at a rate of 15%.
"You'd be stupid not to try to cut your tax bill and those that don't are stupid in business"
- Bono: U2