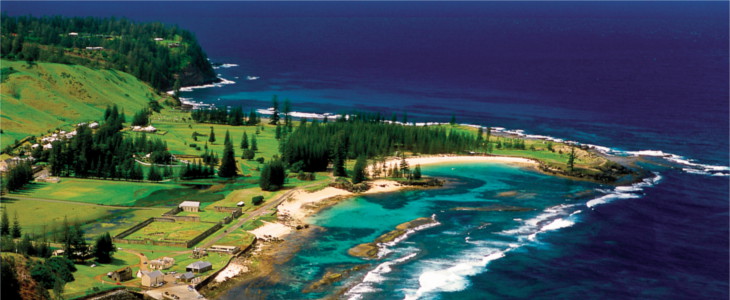 Capital city: Kingston
Currency: Australian dollar (AUD)
Population: 2,210 (2014)
Language: English and Norfuk
Norfolk Island is a small island in the Pacific Ocean (located between Australia, New Zealand, and New Caledonia) and is part of the Commonwealth of Australia. The evergreen Norfolk Island pine is a symbol of the island and thus pictured on its flag. Famous residents include the novelist Colleen McCullough, (The Thorn Birds, Masters of Rome series & Morgan's Run), Helen Reddy (singer songwriter), and American novelist James A. Michener.
Norfolk Island was settled by East Polynesian seafarers in the thirteenth century from the Kermadec Islands north of New Zealand. The first European known to have sighted and landed on the island was Captain James Cook, on 10 October 1774, on his second voyage to the South Pacific on HMS Resolution. He named the island after Mary Howard, Duchess of Norfolk (c. 1712–1773). In June 1856, the descendants of Tahitians and the HMS Bounty mutineers (including those of Fletcher Christian) resettled from the Pitcairn Islands to the Norfolk Island.
In May 2015 the Australian Parliament abolished the self-government on Norfolk Island and transferred Norfolk Island into a council as part of New South Wales law. Residents of Norfolk Island previously did not pay Australian federal taxes, which created a tax haven for locals and visitors alike. As there was no income tax the island's legislative assembly raised money through an import duty, fuel levy, medicare levy, and 12% goods and services tax. The introduction of income taxation came into effect on 1 July 2016.
"You'd be stupid not to try to cut your tax bill and those that don't are stupid in business"
- Bono: U2