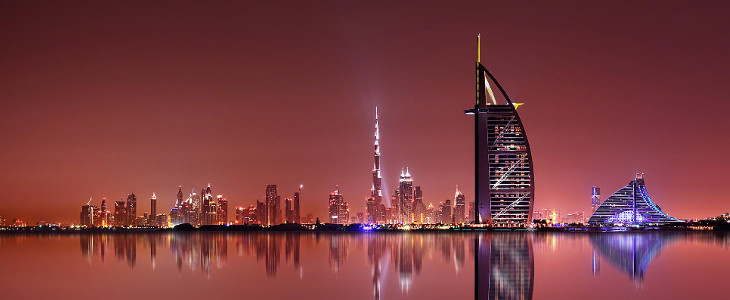 Capital city: Dubai
Currency: Dirham (AED)
Population: 2.8m
Language: English
GDP US$360 billion
Dubai is the largest and most populous city in the United Arab Emirates and is the capital of the Emirate of Dubai (one of the seven emirates that make up the country). Dubai has been ruled by the Al Maktoum family since 1833; (the emirate is an absolute monarchy with no elections).
Despite a lack of oil, Dubai's ruler from 1958, Sheikh Rashid bin Saeed Al Maktoum, used revenue from trading activities to build infrastructure. An airport of sorts (a runway built on salt flats) was established in Dubai in the 1950s and, in 1959, the emirate's first hotel, the Airlines Hotel, was constructed.
Dubai has been called the "shopping capital of the Middle East". Dubai alone has more than 70 shopping centers, including the world's largest shopping centre, Dubai Mall.
Dubai is a nil-tax zone and does not have any federal corporate taxes, personal taxes or withholding taxes. As it is categorized as a zero-income tax state it is not on the G20's taxation "black list."
From 2018 Dubai will start sharing information on bank accounts with the Indian government. The changes in rules have led to Dubai banks demanding tax ID of the home country, copies of passport, and, occasionally, the presence of Indian shareholders of these entities before opening accounts of companies.
"You'd be stupid not to try to cut your tax bill and those that don't are stupid in business"
- Bono: U2